Using the Spin Casino Support Desk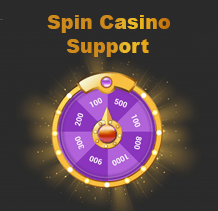 Spin Casino has been providing its products and services to online players since 2001 and continues to turn heads in the online gaming industry, especially when it comes to customer service and taking care of a player's every need and desire. The popular gambling site is owned and operated by Bayton Limited and is regulated and licensed by the Malta Gaming Authority and the Kahnawake Gaming Commission. Players can look forward to a spacious casino floor filled with titles from world-renowned software providers, such as Microgaming, Ezugi, Evolution Gaming, and Crazy Tooth Studios to mention but a few.
Apart from the wide range of games that include slots, table games, lottery games, live dealer, and video poker, you will also benefit from a massive $1,000 welcome bonus coupled with an extensive range of ongoing promotions to ensure you never have to look for another online casino again. However, the biggest attraction is, undoubtedly, the Spin Casino support desk for new and existing players. The Spin Casino support and customer service team can be reached on both desktop and mobile devices, ensuring you are never left in the dark when you encounter a problem on your account.
Support Channels Available at Spin Casino
Online gambling sites have surpassed land-based casinos in several innovative ways. For instance, you no longer need to travel for miles to visit your favorite land-based casino. Online players will also have a bigger variety of games when compared to a land-based property. What's even more attractive at online casinos is the fact that you'll be showered with promotional content from the moment you step through the virtual casino doors, something that you won't receive while playing at a land-based resort.
Apart from all these advantages, there is one aspect of an online gambling site that trumps a land-based casino and that's customer service. At Spin Casino, you'll have multiple customer service contact channels to resolve a query or request and you'll be able to achieve this from the comfort of your home or while you are out and about on your mobile device. The assortment of contact channels available at Spin Casino includes email support and live chat.
If you have a query that doesn't require immediate support from the Spin Casino team, you are more than welcome to send an email to the customer service center where you'll receive a response within 24 hours. However, if you have a query or request that needs to be resolved as soon as possible, you will need to contact support through the Spin Casino live chat facility. Most queries and requests that come through live chat are usually resolved within minutes, making it the most popular choice for online gamblers when it comes to receiving assistance. Unfortunately, Spin Casino does not feature a phone number on the site which means telephone support is not available for Spin Casino's online players.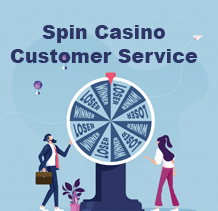 How to Contact a Representative
Spin Casino impresses with an attractive website that is set in the heart of Las Vegas. The online gambling site is decorated in a wide spectrum of flamboyant colors but still keeps things simplistic and easy on the eyes. You can get in touch with a casino representative in several ways while browsing through the site. For instance, you can either click on the 'Contact Us' link located at the top of the page or use the drop-down menu on the left-hand side of the screen to gain access to the contact section of the site.
Once you are on the 'Contact Us' page, you'll be greeted by a live chat link as well as an email address that you can use to get in touch with the Spin Casino support desk. The customer service center is available 24/7 and operates every single day of the year, even if there's a holiday to be celebrated. When you select the live chat option, you will need to provide your first and last name, as well as your username or email address, before an agent will be able to assist you with your query or request.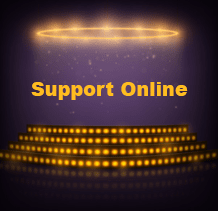 Reasons to Use Spin Casino's Support Desk
The customer service center at online gambling sites essentially acts as your lifeline whenever you experience a problem on your account or when you simply have a query regarding something that you've seen on the site and require additional information. There are countless reasons why you would make use of the customer service center at Spin Casino but to keep things simple, we included some of the most popular reason why players tend to use the Spin Casino support desk.
General Queries: Most players tend to contact the Spin Casino support before signing up for a new account. The queries that flood in from potential players vary greatly, covering topics like game selection, promotions, progressive jackpots that are available, and payment methods. Contacting the Spin Casino support desk is also a great way to get a feel of how the casino is going to treat you once you become an existing player.
Forgot Password: One of the most popular reasons why players make use of the support desk at Spin Casino is to reset their passwords. There are loads of players that forgot their passwords after not playing for months and it's great to have the customer service center at hand to quickly reset the password to regain access to your account. So, if your password is not working, simply get in touch with the customer service center to get it to reset.
Transactions: Another popular reason why online gamblers make use of the customer service center is for queries that revolve around deposits and withdrawals. Some players might find it difficult to add funds to their accounts, while others simply touch base to find out when their winnings will be released.
Account Closure: The customer service center at Spin Casino can also be used to close your account or to delete your personal and financial information before moving on to a new gambling site. If you wish to close your account, you will need to provide a reason before a representative will be able to action your request.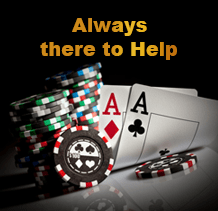 FAQ
Now that you are well-versed when it comes to the support desk at Spin Casino, it's time to take a look at some frequently asked questions that might arise while playing at this immensely popular gambling site.
Can I contact the customer service center on my mobile device?Definitely. You can get in touch with a representative while you are away from home, adding an additional layer of convenience when you want to check up on a payment or when you have a query regarding a specific promotion.
Is the customer service center at Spin Casino available around the clock?Yes. You'll be pleased to know that the Spin Casino support desk is available 24 hours a day and 7 days a week through live chat and email.
Does Spin Casino provide support via telephone?Unfortunately not. There is no phone number listed on the website which means you won't be able to get in touch with the customer service center via telephone. Thankfully, the live chat facility is available if you need to resolve a query or request immediately.
How many languages does Spin Casino support?The gambling site provides support in 16 different languages, including English, French, Spanish, Greek, Deutsch, Portuguese, Suomi, Norwegian, Turkish, and Chinese to mention but a few.
Does the gambling site offer an FAQ section?Yes. Spin Casino comes equipped with a comprehensive FAQ section where you'll find information on account closures, promotions, payment methods, how to open an account, terms and conditions, and more. This means you don't have to make use of the customer service center to find an answer to your query.